11/27/2001 - 01/03/2017


Sherman, a wheaten color Scottish Terrier hails from North Carolina's Jovial Kennels. His mother (daughter of the famous 1995 Westminster best-in-show winner, Ch. Gaelforce Post Script, or Peggy Sue) is Ch. Jovial's Heart of Gold McVan (or Suzie-Q, wheaten) and his father is Ch. Brookhill Sandgreg's Crusader (brindle). From 10 weeks on, Sherman lived in NYC - he was:

15 years, 1 month, and 6 days old

when he passed away from (transitional cell carcinoma) cancer on January 3, 2017.

Sherman is a great dog, though very stubborn! He keeps a good attitude even while refusing to budge an inch. Sherman's happiest when walking down the street or running in the park. You can tell by his big smile.

Sometimes when people on the street ask "what kind of dog" Sherman is, I tell them he's a teacup Polar bear. Other times I say he is a Danish Kangaroo Hound.
---
Also known as:
Sherm, Shermie, Sherms, Shermster, Sherm Star
Little goose, Little crocodile, Little bear
Jelly Bean, Sugar bear, Honey bear
Rabbit, Pooper
Taradactyl head
Bubba
Shlomo (Hebrew name)
Almost known as: Bunny, Paco, Rudy
---
Video of Sherm:
---
It's Sherman's namesake! Sherman is the fella on the right, not the dog, that's Mr. Peabody, Sherman is his student.
---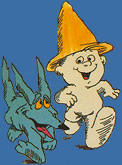 Add to the guestbook we are keeping!